Greetings to all!
I've come here to the
experts
, the avid fans, and those who portray (
in my opinion
) the most iconic and mysterious figures in the Star Wars Universe. My sincere hope is that I can learn from the best of the best to make my project top of the line.
So, a bit about myself, and what I am doing. Right now my focus is not to join the SP of the 501st. While I don't rule that possibility out in the future, my first endeavor is to join the Mercs. So why am I coming here you ask? Good question. Like most in this community, I like to have a bit of a backstory to my character - and the one I've chosen is that the Merc I am working towards portraying is a former Royal Guard, and has incorporated some iconic bits from the SPs into the armor.
My first order of business that I haven't found a perfect way to tackle is working on a paint job. I already have a custom helmet that incorporates the style of the Royal Guard helmet mixed with that of the Mandalorians. It turned out beautifully, but now I'm stuck with the task of trying to paint the visor portion to match that iconic glossy red goodness. The material I'm working on is a thick plastic, and pictured below you'll see what I'm speaking about.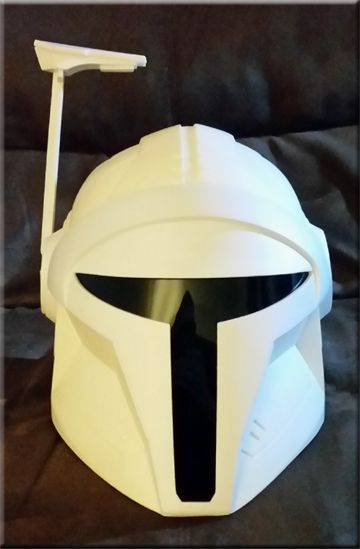 My preference here is to match the glossy red color of the royal guard helmet for the visor portion. What I don't know are a few things, and I'm hoping the wonderful community here might have some answers for me.
What shade of color would be best used to match the iconic shade of red?
For a plastic surface what method of spray painting would you use?
Do I want to go with a high gloss red and then a clear coat?
Will Spray paint even be a viable option for the gloss necessary?
If you have any other comments or suggestions, I'd also love to hear them as well. Thank you very much!